ipod touch first impressions, a great experience so far
A few days ago I said: ipod touch, I'll pass on this one. Can you guess what happened next? Well, it is pretty obvious... I bought one. I was extremely happy with an ipod nano 8Gb I bought 2 weeks ago, but a colleague of mine came to the office with a shinny new ipod touch, bought at the Apple store. One touch that had no TFT contrast problems, one touch jailbreaked with lots of apps, one touch with a terminal, ssh access and even an ebook reader...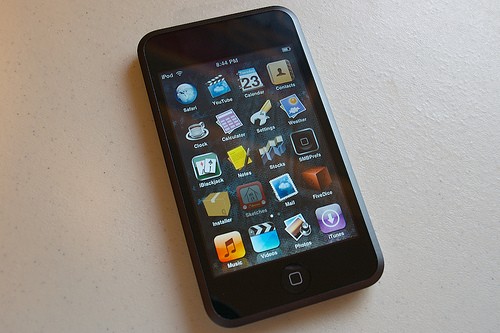 I was shocked, I knew I had to buy one. My perfectly usable Nokia 770 seemed a brick in comparison.
Well, a week has gone by since and I have finally bought a touch and have sold the Nokia 770, by the same amount of bucks I paid for it four months ago.
All in all I can say that I am extremely happy with the purchase, because the ipod touch:
Has a fantastic screen, not as sharp as the Nokia's but more vibrant nonetheless. Downgrading from a 800 to a 480 pixels wide screen has proven to be a pain in the ass the first days, but I have got acostumed now and I just don't care anymore, thanks to Safari zooming capabilities and the adaptations of gmail and google reader, my most used applications so far.
Has a superb battery life in terms of a pda, although it is less impressive as a music player. I am playing/demoing the touch at every moment, and a charge is lasting me a couple of days so far. It holds 5 hours of video and 18 of audio easily. Surfing the web drains battery as much as viewing a video.
It has few apps out of the box, but thanks to the hackers that have created exploits like iJailbreak, and the community sources that come when installing appInstaller, you can empower the touch with a web server (apache,lighttpd), ebook reader (Books.app), ssh server/client, pdf viewer, wifi hotspot finder (Stumbler), etc. Once you install these apps, the ipod touch becomes a full blown pda, not just a music player with a browser thrown in for authentication on wifi networks, in order to buy on iTunes anywhere. How cool is to restart your zope instance from the shell of an ipod touch while listening to Radiohead's New rainbow album? For me the touch scores 5 geek points.
It has a shinny bright future as a device, I'm pretty sure it will be sold by millions and by february the customers will have access to 3rd party high quality native applications: note taking, calendar, communication, games and productivity apps will appear by hundreds, and they will be conveniently sold through iTunes as well as delivered as opensource projects.
The design, form factor, quality of materials and size/weight are amazing, period. The software is also as polished as it can get by not today, but future standards, something only Apple can do.
There is no sign of Apple branding on the front side of the itouch, which is so simple and beauty. I LOVE this Jonathan Ive's minimalism design thing.
Finally, the multitouch interface delivers a great experience. You'll want to interact with the ipod touch at all times... It's not a novelty thing, I assure you, it will last for years.
Now let's move onto the gripes of the ipod touch, as no gadget comes without a full basket of inconveniences:
The keyboard is difficult to operate, no matter how long you practice with it. Predictive text seems not to work, at least when writing in spanish. There is also no tactile feedback and the thumbs get tired of typing easily.
No copy/paste. I was aware of it before buying the device anyways, and yes, it sucks big time. Apple doesn't consider it necessary to buy songs from iTunes, which seems the only aim of providing a keyboard on the device. Oh, well, and searching youtube videos.
No printed user guide. Come on Apple, you are 289 euro richer with my purchase and you are unable to put a 30 page manual with a clear explanation of the ipod-touch-revolutionary-and-not-so-intuitive features... As an example, one of the complaint points of this post was about no accented characters appearing on the virtual keyboard and it took me some days to find that long pressing on a vowel was all I had to do... Expecting your clients to download a user guide in pdf format from your website is not the best way to explain how to get the most of your devices.
No bluetooth connection and no bluetooth headsets for such a high end music player! And you Apple do this only because you are afraid that the touch eats the iphone sales...
No speakers! It would have been extremely easy to put a little cheap one, as on the Nokia 770. It would make watching videos a tad more enjoyable, and the ipod could be perfect then for waking me up in the morning, or playing calendar alarms with more audio quality. Jeez, I could open my eyes every morning watching a video of Shakira... well, maybe.
Drawbacks aside, I am extremely impressed with the ipod touch, and I would say that it will be in my pocket for years to come if I wouldn't know me enough... All I can predict is that I will probably sell it when something better comes along, and I am not only talking about a simple increase of storage capacity. I am talking about an Apple ipad or a 2nd iphone version. Will this happen soon or later? I don't expect it to happen in less than a year. So I will enjoy my ipod touch during that time.