Ipod touch, I'll pass on this one
Last week I sold my 30Gb ipod video for a bargain prize, just anticipating the shinny acquisition of a new generation ipod. I was never very happy with the ipod video anyways, being the main gripe its short battery life, which could only handle 2 hours of video playback and no more than 10 hours of music. I was never able to abstract from this issue, always observing the battery meter on the screen.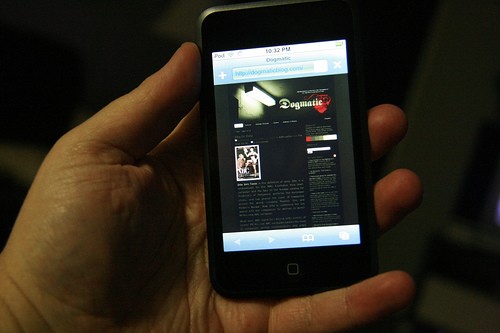 I came to the ipod video from an ipod 2G, and that was such a trusty player! But the 20gb version was also bulky as hell and I was never using it on the go. I wanted portability, and I wanted video. Just the same old gadget compromises story :-) Sooo, I just sold my ipod video, an omiz bluetooth portable keyboard and a Palm Tungsten T3, and gathered enough money to buy a new hyper powerful media player. My first option was an Ipod Touch, based on this considerations:
I would love to enjoy this new multitouch interface, as the iPhone is not still Barcelona friendly.
The form factor is extremely attractive, what a slim and elegant device it is!
The big screen is a plus, maybe it could substitute my trusty Nokia 770 tablet for watching videos.
Safari optimized for a portable device, this may deliver a sweet web browsing experience from the sofa (just as it does now the Nokia 770, anyway).
Cover flow and the pictures app may be for sure a pleasure to put the fingers upon.
There is a huge community outside Apple with the aim and knowledge to exploit this device as a pda.
And, well, it also works as a music player.
As clear as it was my decision, I changed it when I read there were some ipod touch issues arising from the first hands on and reviews of the product:
TFT poor quality, awful black color contrast that ruins the video experience.
Slower than it should synchronization with iTunes: while it takes 8 minutes to copy an 8Gb iTunes collection to the new ipod nano, the same action lasts 17 minutes on the ipod touch (ouch!)
Battery seems to last a couple hours less than advertised (I have been there, didn't like it).
While the new ipod nano appears to me as a logical evolution of the line, the touch on the contrary is more of an involution of the iPhone, just for the sake of not bringing competence to the successful mobile: the ipod touch comes with no e-mail client, sans bluetooth, cannot add events to the calendar, it has no notes application, no volume buttons...
So finally I'll pass on this ipod touch first edition, at least until the situation of the screen and software gets better... But I know I will jump onboard as soon as the 2nd generation or the rumored iNewton appear at the Apple stores in some months to come. Besides, I am by now the proud owner of an ipod nano 8Gb black edition, and what a beauty and complete device it is!